Marquis workflow tools and collaboration
Marquis is transforming news and production acquisition workflows for Avid editing systems, enabling clever proxy relinking and enriched metadata streams via 5G. The company is working with a growing number of technology partners, including Sony, Avid, LiveU, Wolftech and Ross, to help customers accelerate and streamline content gathering and production workflows. The acquisition workflow is particularly efficient in the case of unscripted documentaries with a high shooting ratio, since it saves transferring a huge percentage of high-resolution content.
Initially introduced at NAB 2023 for news workflows, the novel method of news sequence relinking – with all associated metadata – is already in operation at six Sinclair stations in the US. The unique proxy re-linking workflow has accelerated 5G news acquisition, reducing the volume of high-resolution video transferred to news production centres by field journalists. It allows the news cameras to upload proxy files via the Sony C3 Portal, which are transferred to Avid MediaCentral or Media Composer, complete with all metadata, for fast proxy editing in Avid. Once edited, the edit can relink to partial extraction of hi-res content – this is a fully automatic process and can happen from the Sony C3 Portal, directly from the Sony camera or from copied camera cards.

Come and see us at our next show – pre-book a meeting here.
Fast production workflow
Multi-res files and structured metadata automatically delivered to editors and newsrooms – edit more versions and deliver to digital platforms faster, with improved relevance
Reduce production cost
Edit stories as soon as the proxy file starts ingesting, then automatically fetch only the required high-resolution media in a sequence to reduce connectivity costs
Enriched metadata
Automatic preservation and enrichment of metadata from the point of origination, keeping geneology intact from creation, through the edit and into archive
LiveU
A new collaboration between LiveU and Marquis provides seamless video and metadata workflow between LiveU sources and Avid editing systems. It enables video from LiveU field units to be recorded, together with associated metadata, by LiveU Ingest and moved efficiently from acquisition through to production with Avid-ready formatting. This means video can be ingested directly via LiveU Ingest into Avid MediaCentral and Media Composer, with all production metadata.
Ross
Ross' Media I/O ingest, playout and transcode software solution has been certified with Marquis Medway. Scaling to the biggest production demands, Media I/O supports almost any video format, can run on-premise, virtualised or in-cloud, and integrates seamlessly into your production workflow. We can transfer and check video into Avid whilst still recording from Media I/O to allow the Avid users to edit growing files. Growing file support is a feature of MediaCentral and Interplay.
Wolftech
Marquis and Wolftech bind and enrich metadata throughout the production planning, acquisition and downstream processes. Using Sony's clever acquisition tools (C3 Portal and compatible cameras), or LiveU, along with Avid's production tools (Media Composer, MediaCentral and Edit on Demand), the new workflows ensure Wolftech planning data is maintained and enriched throughout the production process.
Our fundamental strategy is to democratize news acquisition, with every journalist or photographer having fast content delivery to news production centers. This transformation requires a collaborative approach to streamline the workflow. We're engaged with Avid on its MediaCentral® news production platform, Sony on cameras and C3 Portal and Marquis to enable complex workflow integrations.
A closer integration of our C3 Portal with Avid MediaCentral to immediately deliver contents to edit system from camera is one of the major demands from our customers and I'm pleased to confirm we have achieved this.
The combined offering enables lens-to-first-edit workflows to flow from Sony cameras, through Sony's C3 Portal leveraging Marquis software to deliver proxy media and camera metadata into Avid on-premises or cloud-deployed production solutions.
Our innovative cloud-based workflow integrates Avid MediaCentral, Sony Electronics' C3 Portal gateway service and Marquis software to get news to air faster than ever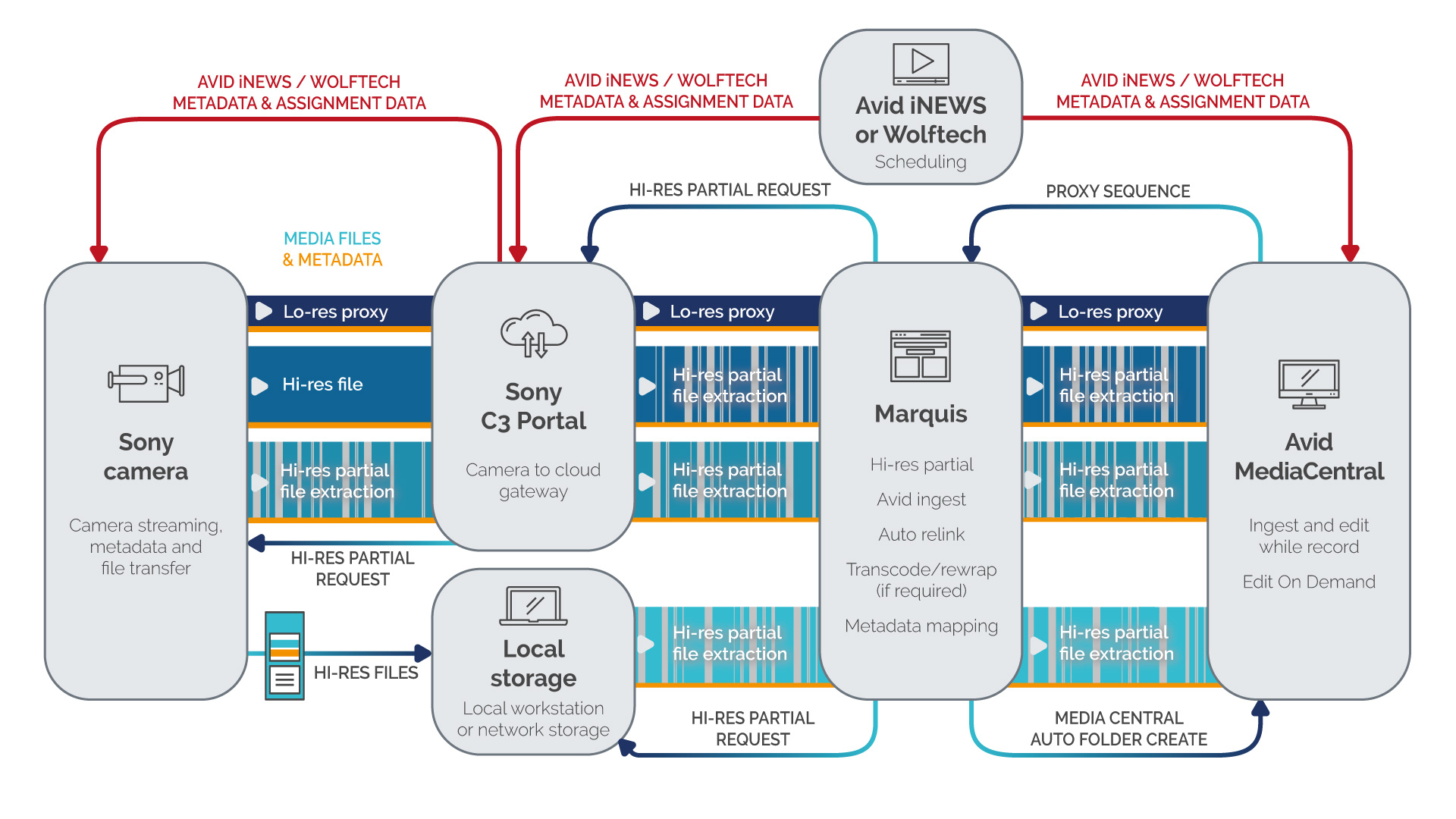 X2Pro5
Marquis has announced X2Pro5 software (coming autumn 2023), which has been designed to integrate Final Cut Pro projects into a professional audio workflow, enabling Avid Pro Tools to be used for audio finishing. The new X2Pro5 software is a complete rewrite of Marquis' popular X2Pro Audio Convert software and brings with it native Apple silicon support and a redesigned user interface. It also takes advantage of the innovative metadata-based organising features in Final Cut Pro X, with expanded role management allowing unlimited numbers of audio roles in Final Cut Pro X to be converted into Pro Tools tracks for further audio processing and finishing.
Our workflow tools
Marquis has a range of clever workflow tools for broadcast and post-production, helping facilities improve the efficiency and ease of digital workflows. Our systems deliver cost-effective integration between leading broadcast content applications, ensuring standalone or shared-storage edit platforms, media asset management and automation systems all work seamlessly together.